Throughout the nineteenth century, the only home for Jewish orphans in the Midwest lay in Cleveland, Ohio. Given Chicagos' growing population of poor and immigrant Jews, a number of concerned Jewish women approached the United Hebrew Charirites about starting an orphans home in Chicago. Organized in 1892, the orphanage moved in 1899 to a larger building, at 62nd and Drexel, across the street from the Home for Aged Jews in 1899.
The Chicago Home for Jewish Orphans
(later named Woodland Hall).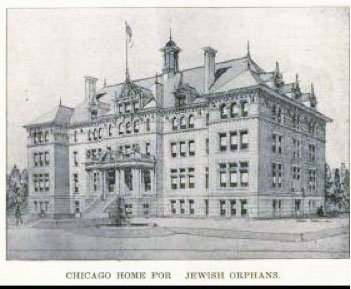 Abstract
This article compares and contrasts the two Jewish orphanages in Chicago--the Chicago House and the Marks
Nathan Home. It focuses on the differences between the German Jewish immigrants and the Eastern
European Jews and how these differences affected the orphanages.
Constructing the Past
Volume 7 | Issue 1 Article 9
2006
Orthodoxy as a Means of Becoming Good Jewish
Americans: Two Jewish Orphanages in Chicago
Natlie Burda
Illinois Wesleyan University
http://digitalcommons.iwu.edu/cgi/viewcontent.cgi?article=1080&context=constructing